This blog is a friend of equal rights, and of marriage equality. I have written many posts and a newspaper editorial stating my position loudly and clearly.
But I don't think I will ever see eye to eye with people, of any sexual orientation, who believe that harsh words and actions directed at gay/lesbian/transgender folk must be classified as hate crimes, and punished extra severely. You want equality? I'll stand with you, and fight alongside you. But the moment you begin arguing that your people are more equal than other people — well, excuse me while I spin on a dime, and become your implacable foe. Even Animal Farm-reading eighth-graders might understand why I feel that way.
Quick recap for those who need it: Tyler Clementi was a Rutgers freshman whose 2010 erotic encounter with a male acquaintance was watched by Clementi's roommate, Dharun Ravi, via a webcam that Ravi had stealthily placed in their shared quarters. Ravi then wrote crass remarks to friends about Clementi's sexual proclivities, via Twitter. Clementi found out and was apparently so distraught that he killed himself by jumping off a bridge.
Late last week, a U.S. jury convicted Ravi on multiple charges, including invasion of privacy, and of having acted on an allegedly anti-gay bias (he denies he hates gay people). For his "hate crime," Ravi faces up to ten years in jail and possible deportation to India, where he hasn't lived since he was two.
Many of my friends are pleased with the verdict, or at least OK with it. One of them even saw Ravi's reprehensible behavior as the equivalent of a direct physical "threat" to Clementi. The friend added that Clementi had clearly "been disturbed by what Ravi had done," and argued that that was really all that mattered in elevating Ravi's actions to a hate crime, a designation that draws higher sentences than a "regular" crime.
Where I come from, an actual "threat" would need to constitute something more than a few unpleasant Tweets, and more than a surreptitiously recorded groping. I think even the jury that convicted Ravi would back me up on that.
As for Clementi having been "disturbed by what Ravi had done," yeah, no doubt. I would have been too, if I'd been in Clementi's shoes. But so what? What is "being disturbed by something" supposed to prove? What unholy legal precept is being conjured with that phrase?
Look, I'm disturbed every day by the unconstitutional horrors that come out of Rick Santorum's ugly mouth; just as I was disturbed by the angry woman who once commented on a pro-porn blog post of mine by saying that she fantasized about putting my dick in a vise. While they do not have the right to invade my privacy, they most assuredly can utter almost anything they damn well wish (excepting slander, libel, and threats of actual physical violence).
Being greatly upset does not give you the higher moral ground. It does not earn you automatic respect. It's exactly the opposite for me: Play the "I'm really upset" card as if it means anything — a plea for sympathy usually made by hypocrites and weasels — and you will earn my enmity and scorn. Claiming that intemperate words can hurt just as much as bullets or blades is, after all, the same lame "argument" that religious crybabies of various stripes love making. Funnily enough, they believe that they somehow have the right not to have their feelings hurt.
The actor and writer Stephen Fry (who's gay, by the way) dealt with that crowd rather admirably, I thought: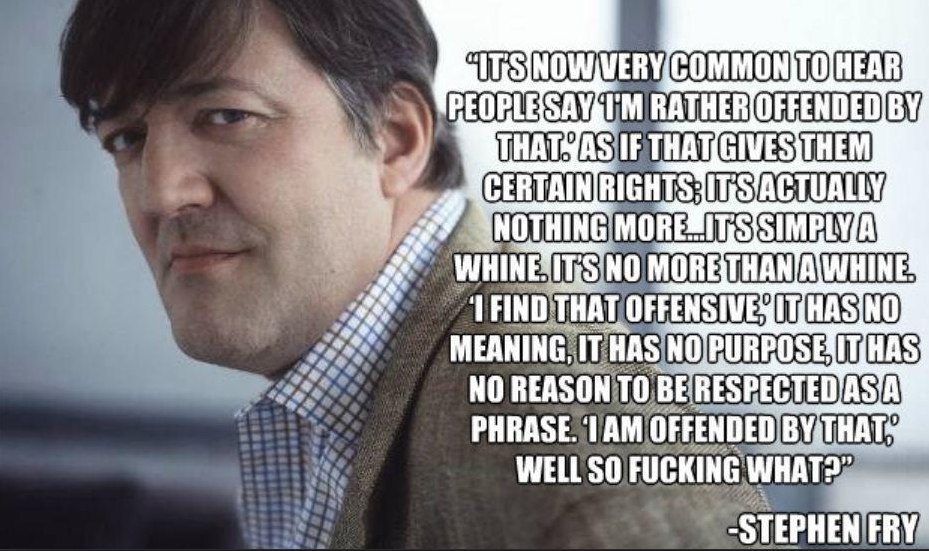 If you're on the fence about the Ravi verdict, or if you support it, I have two quick mental exercises for you.
THOUGHT EXPERIMENT NUMBER ONE: Let's say that Clementi never jumped off that bridge, but everything else about the case remains the same. Do you believe that Ravi would have even been prosecuted for what he did, much less convicted by a jury and facing ten years in jail? More to the point: If you'd been on that jury, and Tyler Clementi was alive and appearing in court as the plaintiff, would you have felt compelled to put Ravi behind bars for up to a decade? I don't know, but I doubt it. Remember, Ravi's awful behavior would still have been the same. But few people would probably choose to convict him in the absence of a dead body.
What does that tell us? It says that his actions only amount to a crime when there are certain outcomes that he had no control over. (It's not like he handed Clementi a gun and advised him to shoot himself. And even if he had, that final deed would still be Clementi's choice, and no one else's.)
Keep in mind that these are college students. They're old enough to vote, old enough to go to war. We have a criminal-justice system that frequently treats (and tries) 14- and 15-year-olds as adults. Surely we can expect actual (young) adults to take responsibility for what they do. That means Clementi and Ravi.
Ravi doesn't deserve to get of scott-free. Rutgers could have suspended or expelled him, which seems like good comeuppance. Clementi, had he decided not to step off that bridge, could have sued Ravi for invasion of privacy, and won a monetary settlement as well as moral vindication. Both of those remedies address the actual problematic behavior, rather than what may or may not have been on Ravi's mind at various times.
Better, no?
THOUGHT EXPERIMENT NUMBER TWO: What if Ravi had spied on Clementi while the latter was making out with a woman? I'll let The Washington Post's Richard Cohen flesh that one out:
Suppose ­­­­Dharun Ravi, the former Rutgers University student who spied on his roommate, had caught him not "making out with a dude," as he so eloquently tweeted, but with a woman. And suppose further that this hypothetical roommate was awkward and sexually inexperienced and he had utterly failed at seduction. And suppose even further that this failure — this mortification — was seen by other students who mocked him behind his back so that, as did the real roommate, he jumped to his death from the George Washington Bridge. Would we be dealing with a hate crime?

Probably not. We would still have a revolting invasion of privacy and the same hideous bullying (via webcam) and the same tragic death, but the aspect of bias would be missing and with it the charges that could bring Ravi an additional ten years in prison. The jury in his case was not permitted to consider the suicide, but it is what turned this case from a college disciplinary proceeding into a staple of the morning shows – a jerky prank into a hideous tragedy.
Cohen is bothered by the same fundamental flaw that's always stuck in my craw about hate-crime laws:
[H]ate crime laws do more than punish crimes. They also punish thought or speech — or both. If in the course of a fight, one of the fighters utters an anti-gay (or anti-black or anti-Semitic) epithet, then the crime of assault becomes one of hate as well. Beat up a heterosexual and it's assault. Beat up a gay and it's assault and a hate crime – a little extra jail time for having a dirty mouth.
I just cannot get comfortable with a legal system that punishes thought crime. Did Ravi commit a heinous invasion of privacy? Absolutely, and it deserves our straight-up condemnation. But a privacy invasion is all I see Ravi being guilty of. Yeah, OK, the guy is also guilty of being a first-class douche nozzle. But is he a criminal? Techdirt's Mike Masnick rightly points out that
[W]hether or not your actions are seen as criminal depends almost entirely on how someone else reacts to them. If they shake off your actions, then you're fine. If they commit suicide, you get punished. Thus, the incentive then is actually for kids to seriously hurt themselves if someone acts in a mean way towards them, as that increases the likelihood of the bully getting punished. That doesn't sound like a good incentive system.
No, it doesn't.
But in some ways, the Dharun Ravi trial was less about achieving practical goals, and more about scoring a symbolic victory over a more or less abstract foe. It seems to me that this wasn't really a young man on trial — it was homophobia itself; or rather, Ravi's particular brand of homophobia; or rather, his attitude that we surmised was probably kind of homophobic, or maybe not quite, but let's just make ourselves feel good and convict him anyway.
Dharun Ravi will thus go to jail for what we inferred was in his mind — and instead of being ashamed by that, we'll just pretend that justice was served, and move on to the next hate crime, until all ostensible hate has been cleansed from our great land. It's going to be a while.

Rogier is a Dutch-born, New-England-dwelling multi-media maven (OK, a writer and photographer) whose dead-tree publishing credits include the New York Times, Wired, Rolling Stone, Playboy, and Reason.